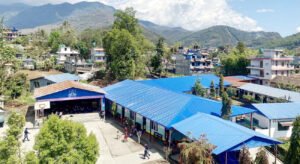 Alpha Boarding School
Alpha Boarding School Pokhara-16, Lamachaur was established in the year 2045 B.S (1988 AD). From the day of its inception, it has been imparting the need of caring and loving environment to the young learners.
The school runs its academic programme from Kindergarten to High School level abided by the government rules and policies. Furthermore, the school has pioneered the role of private sector to upgrade educational improvement of this particular area.
Late Deepak Bomzon, a Darjeeling born Nepali envisioned it.
He had worked as a teacher in different schools of Nepal before establishing it.
The school celebrated its glorious 25th years of its establishment in the year 2070 B.S. However, for the best educational practices, the school has a culture of collaboration with different organizations. As a result of this collaboration with British Council during 2016-2019, the school was awarded with ISA Award (International School Award).
The school was also awarded the title of Most Innovative Project
Besides academic activities, students have brought home prestigious medals and trophies in the school competing in different district level competitions too.
With the motto "Towards Light", the school has plans to fulfill the need of value-based (Sanskaryukta) and transformational education to all.
Loving and caring environment
Well trained team of teachers
Conducive and safe structures for young learners
Sports facilities (Volleyball & basketball courts, TT, Badminton, Handball, etc.)
Transport service and hostel facilities
Centrally located at the heart of Lamachaur
Arts, music and dance classes included as co-curricular activities
Well-equipped and fully automated library and labs
A Pioneering School run by an enthusiastic team of people committed to social services
Newly launched programs of CPS and CPrS for preprimary and primary level
"Education is the movement from darkness to light." – Allan Bloom
"Teacher quality is the most influential factor that determines student success. If students are taught by a string of under qualified and underperforming teachers, it limits academic potential. However, highly qualified teachers are more likely to expand students' desires to learn and succeed."
Surendra Man Sing Bhandari
Chairman / Principal
Dipak Gurung
Executive Director
Lila Gurung
Support S. Officer
Safal Bomzon
Sports Instructor
Balaram Bhujel
Vice Principal
Bijay Babu Adhikari
Exam Co-Ordinator
Separated they live in. A small river named Duden flows by their place and supplies it with the necessary regelialia. It is a paradisematic country